Using Libraries

A library is a virtual collection of folders. The files can be stored in multiple locations. This feature helps you organize all your files together in one place regardless of where they are stored.

By default, you have the Documents, Music, Pictures and Videos libraries. Three of them can be found, by default, on the upper right side of your Start Menu, as highlighted below. However, you can create as many as you want.





They can also be accessed from the left side menu of Windows Explorer, as shown below.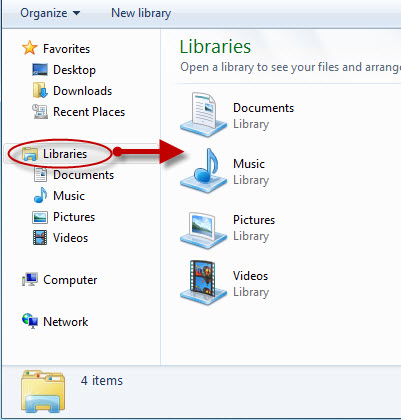 When clicking on any of the libraries, Windows Explorer will open all files or folders contained by it.

Add a New Library

Open the Windows Explorer icon
Click on Libraries / Click New Library button


A pop-up window appears ... type the name of the new library / Enter
The new library displays

Add folders to the New Library

Double click on the library to open it.
The following option displays




Browse your computer and select the folder(s) you want to include in the library.

Windows Explorer will scan the contents of that folder and include it in the library. The process can take a while, depending on the number of files & folders included. During this process, you will see a progress bar like the one below. When done, it will disappear and you will see the whole content of the newly created library.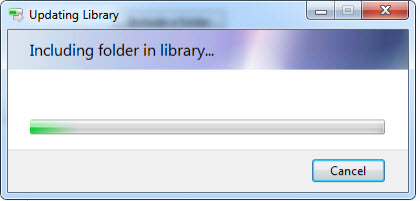 Another alternative is to open Windows Explorer and navigate to the folder you want to include in your library. Then, click on the Include in Library button, on the top of the Windows Explorer window. From the drop down menu, select the library in which you want to include the selected folder.
NOTE: you cannot link to a folder on your p:\drive as these folders are not indexed. The p:\drive cannot be indexed because it contains all faculty and staff folders. You can access folders on your c:\drive or USB drive.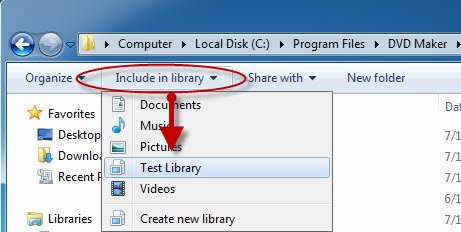 Sorting options:
Documents: Folder, Author, Date modified, Tag, Type, Name;

Pictures: Folder, Month, Day, Rating, Tag;

Music: Folder, Album, Artist, Song, Genre, Rating;

Videos: Folder, Year, Type, Length, Name.


---

Created: July 05, 2012

Sr. Arlene Callahan
Training Manager
Rivier University
Nashua, NH 03060

E-mail: acallahan@rivier.edu